In May 2017, the parents of Fynn met with consultants at Bristol Royal Children's hospital to see if Fynn was a suitable candidate for Selective Dorsal Rhizotomy (SDR).
SDR is the dividing and cutting of nerves in the spinal cord. They were told that they needed to continue with Fynns physiotherapy to strengthen his core but that he was an excellent candidate.
This operation would mean that most of his painful spasms would cease and that this would lead to him hopefully walk unaided. The emotional fall came when Fynn's parents were told he can't get an operation funded on the NHS – and they have to pay for it themselves.
The current cost is £38.000 – We have raised over £26.000 so far – and are now pushing for the last £12.000.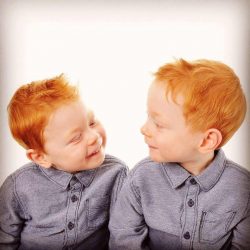 Fynn and his twin brother Leo Fleming
Fynn's operation will change his life. So PLEASE donate.
I would also like to thank everyone from the bottom of our hearts who have already donated already.
The bank details are below so even if everyone just donated £1.00 this would make a big difference so PLEASE PLEASE donate.
SORT CODE 20 – 68 – 10
A / C 83516776