HERALD BUSINESS EDITOR CUTS THE RIBBON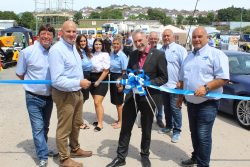 The Business Editor of the PlymouthLive/Herald William Telford cut the ribbon, at New Wave Marine's new site move in the city, where 20 other UK businesses took part in its Open Day celebration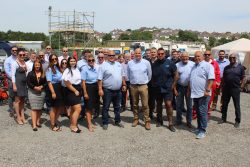 ONE of Plymouth's most dynamic family firms New Wave Marine – staged a massive 'Open Day' celebration event, at its new offices in Plympton, Plymouth.
The specialist waste management company delivers high-quality industrial services to marine and land-based companies, operates across the UK, and invited 20 other UK businesses to take part in an 'Open Day' showcase for the public.
Local and UK companies took part that included; Speedy Equipment, Zwanny Spill Response, Flotech Engineering, Big Ant Recruitment, Green Light Safety, Protekt Safety Wear, SUPERJET, Dorcas Media, Ali-Fab Engineering, Jem Scaffolding and others.
Award winning family business New Wave Marine, put on a day of events that included fleet vehicle and equipment displays, rescue responses, spillage clean-up demonstrations, domestic cleaning marquee, gas monitoring equipment displays, emergency confined space rescue displays, with food and refreshments also laid on.
Since launching nearly 5 years ago, the company has expanded at such a rate we needed to move from Scott Business Park to a new site in the city that will allow us to continue to grow and expand over the next 10 years, said managing director, Jason Parsons.
Mr Parsons, said: "Our open day was a chance for the public to see what we do. But also, to celebrate our new site move with our partners, and especially for other local companies to see the wide range of services we provide."
"Our 'Open Day' showcase was an opportunity to thank the UK businesses we work with and highlight the sectors we work in, and especially the inter-dependence of working together with British partners," he said.
Darren Negus, operations manager, at New Wave Marine, said: "Our new site move to Plympton is the next stage in our identity as a business. It allows our company to expand and take on more staff over the next few years."
New Wave Marine are specialists in cleaning confined spaces, and areas that demand the use of cutting-edge breathing apparatus, and developed innovative solutions to manage residues and wastes generated.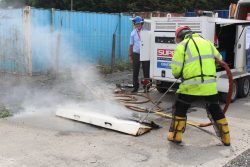 SUPERJET DISPLAY